Welcome to Club 106 Academy and your e-learning guidelines.
1.

You are registered to study using our e-learning platform.
The e-learning platform is available 24 hours a day. You will not need any pens, papers or books. Everything is digital and you only need connection to the internet to access all of our resources.
As soon as you see this information, request a consultation before you start the course.
2. We're sure you'll enjoy the freedom and flexibility of this new learning experience.
You will start your e-learning course by using your smartphone to record a short 30 second to 1-minute video (vlog) stating with your name, your course and what you hope to gain from participating in this e-learning experience. Send the video to vlog@club106.org
3. Always hold your phone horizontally/landscape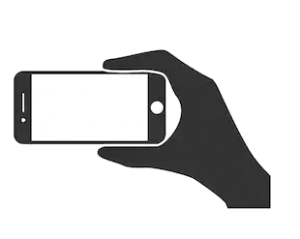 Make sure your image is well centred. Like the image below with good lighting and no background noise when recording your vlog.

4. When recording your e-learning vlog. You will have to follow the following format of introducing your vlog (intro) and finishing your vlog (outro). Please use the guidelines below.
Hi my name is (your first name)

This is my e-learning vlog for (name of your e-learning course)
Now start describing your e-learning experience: in 30 seconds to 1 minute.
Thanks for watching my vlog, Bye.
This should all be done in one take. It doesn't matter if you make some mistakes. We will review your 1st vlog and give you feedback.
5. Getting Started.
You will receive your e-learning app via your social media and a link via email.

You will receive a password to enter the e-learning platform.

Click on the app/link and you will arrive at the e-learning platform.

You can bookmark it or add it to you favourites in your web browser for easy access.

Enter the password to enter the e-learning platform.

Once you access the e-learning platform, you will access 5 lessons and 5 Questions.

The lessons will include a short YouTube video.
6. Click on the Youtube icon to watch video.

7.
Click on the book icon to read additional information.

8. Click on the e-classroom icon to answer your questions.

All answers to the questions should be 200-500 words in length.

Please check your spelling and grammar before submitting your answers.

Also, keep a backup copy of your answers saved on your device before submitting.

Please observe the deadline for each lesson to avoid penalties.

the deadline is always 20:00 (8pm) on the deadline date.
9. Click the help icon If you need help with your lessons.

You can contact your e-Tutor 24 hours a day by clicking on the e-Tutor icon.

Your e-tutor will aim to respond to your queries within 24 hours, but sometimes it may take a little longer.
9. A

fter each lesson you are required to use your smartphone or device to record a 30 second to 1 minute vlog for your video diary.
The vlog is a summary of what you have learned at the end of each lesson. Please send your vlog to: vlog@club106.org
10. Failure to start your e-learning course within 2 weeks of being offered a Club 106 Scholarship will automatically cancel your scholarship. You will be removed from the course and your place will be offered to someone on the waiting list.
Accredited by Club 106 Academy
Copyright © 2020, Club 106 Community Project. All Rights Reserved. Charity.
Registration Number: 1079160